Enhanced Ophthalmic Surgical Skills with Haag-Streit Integrated Wet Labs
To enhance ophthalmic surgical skills, no detail is overlooked. We've considered every element of the ideal wet lab experience, from microscope quality to student ergonomics to ease of collaboration.
Operating room-level microscopes. We install surgical microscopes with superior optics and functionality, such as the Haag-Streit Hi-R NEO 900. As a result, it allows residents to learn the same microscopy techniques that are used in a true operating room.
Ergonomics. The primary goal of ergonomics in the wet lab is to reduce musculoskeletal strain. As a result, we accomplish this through the microscope and table design integration.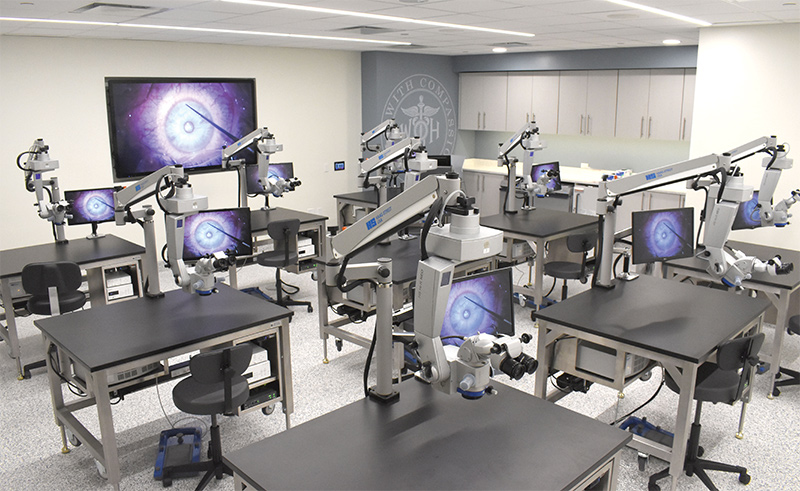 Collaborative learning. Video from any student's workstation can be displayed onto large classroom monitors, as well as each workstation monitor. This results in easy collaboration among residents.
Visual system design. We've developed a powerful solution that allows instructors to display individual workstations as well as annotate. Accordingly, this results in an elevated learning experience.
Custom apps for system operation. Additionally, for a seamless interactive teaching environment, we design custom apps specifically for your wet lab in order for the instructors to freely move about the classroom. As a result, this will impact every student's learning experience.
In 2019, Haag-Streit USA provided wet lab solutions at the Wills Eye Institute at Johns Hopkins Medical Center. As a result of this partnership, we were able to plan, integrate and install their wet lab workstations.
Our refined, innovative process included:
State-of-the-art technologies

A core focus on ergonomics

Collaborative learning concepts

Placement of operating room-level microscopes for an authentic simulation environment
Douglas M. Wisner, MD, Wills Eye Hospital explains in this video:
THE HAAG-STREIT USA APROACH:
CLA Medical is a certified Haag-Streit USA distributor for Ohio, Kentucky, and Indiana. In addition, we are a certified national reseller of medical-grade video systems and printers from Sony Medical, Ikegami Medical, and Panasonic Medical. We specialize in ophthalmic microscopes, ophthalmic wet lab solutions, surgeon chairs, printers, print media, cameras, monitors, and recorders. Our "Build Your Microscope" tool can help you compare and select the appropriate options. We are also glad to meet with you to customize your equipment purchase and find the best combination for your operating room, staff, and patient needs. We work with you and your staff throughout the process and after the installation of your equipment to ensure it is the right fit for your needs. Please let us know if you need further information about the latest video and printing equipment and/or medical-grade microscopes. Let us know what we can do for you.